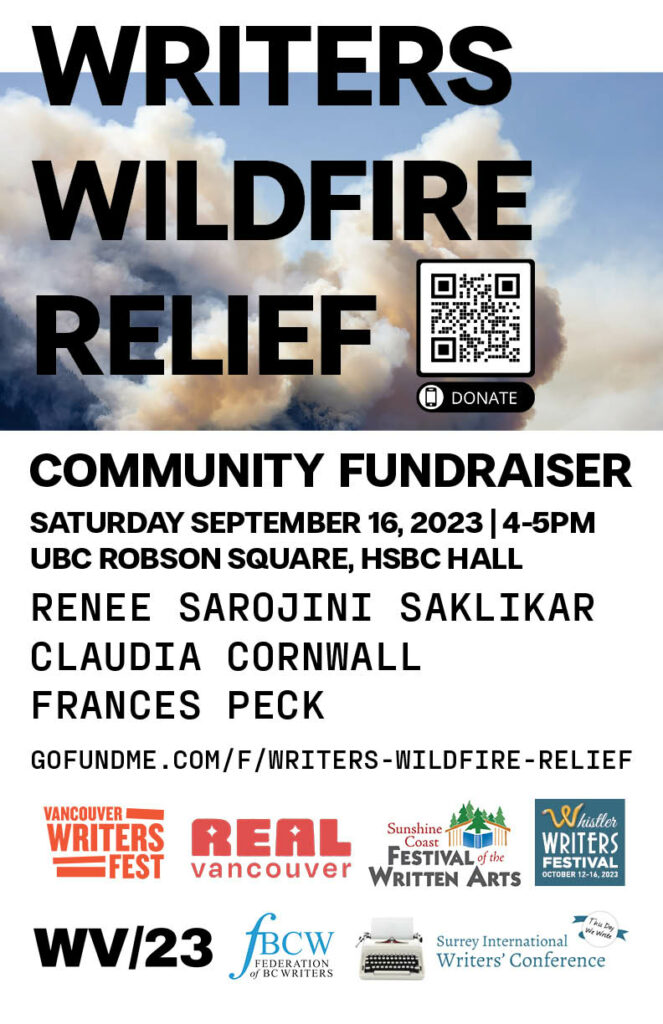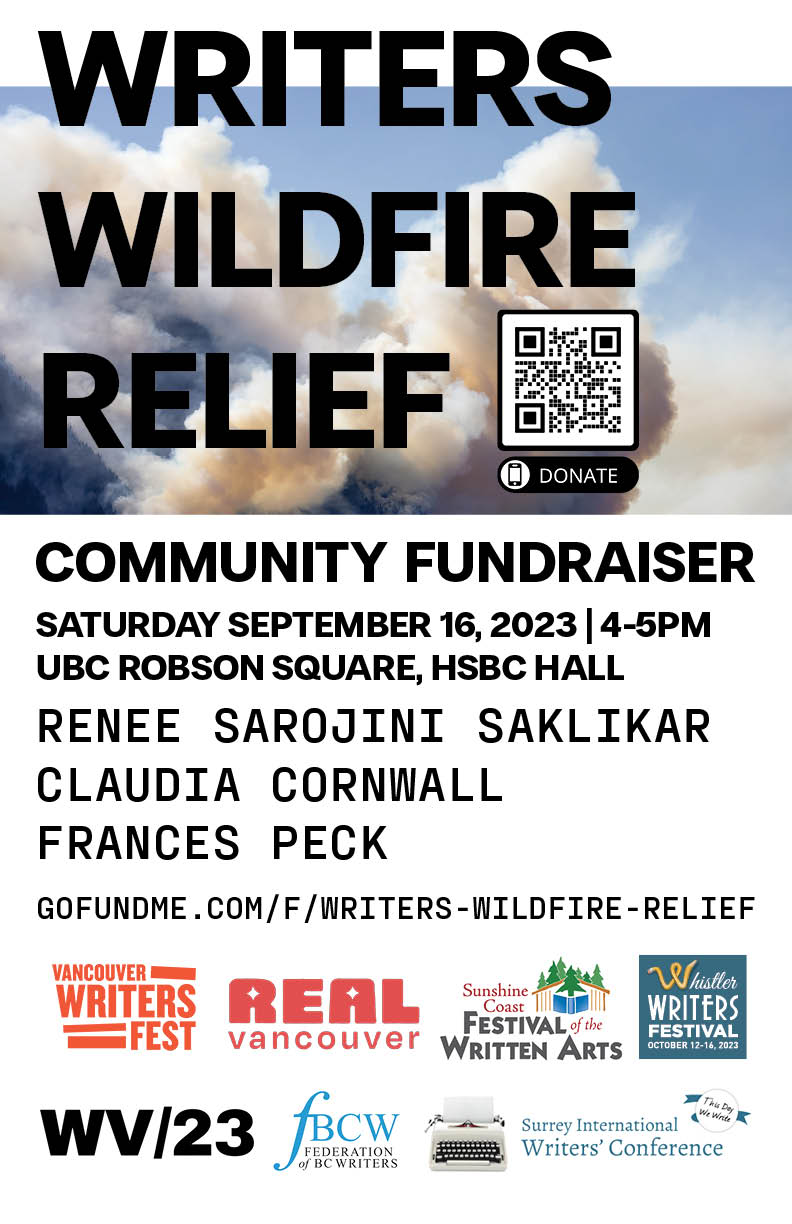 Literary groups around British Columbia have joined forces to raise awareness and money to support those affected by this year's devastating wildfires.
On Sep 16, 4–5pm, as part of Word Vancouver at UBC Robson Square, I will join authors Claudia Cornwall and Renée Sarojini Saklikar at HSBC Hall to read from our works on BC fires and share personal reflections.
All are welcome; no RSVP required. Meanwhile, you can donate to this worthy cause until Nov 1: https://www.gofundme.com/f/writers-wildfire-relief.
Why I wrote this book (remarks delivered Sep 16)
I grew up in Cape Breton, NS, a foggy, soggy place not known for wildfires. What I know of fire I learned mainly from writing about it. During the late 90s and throughout the aughts, I wrote freelance pieces for the Canadian Forest Service, part of the federal government. Wildfire was an occasional theme.
In 2004, when I was living in Ottawa, another place not overly prone to wildfire, I got an assignment to write a piece about the devastating Okanagan Mountain Park wildfire the summer before, in August 2003. It's sometimes referred to as the 2003 Kelowna fire because it led to mass evacuations in and around Kelowna and to destruction of property there on a scale that, at that time, had not been seen before.
For the story, I interviewed a range of people. Fire experts, who warned that this was just the beginning, that we'd need way more wildfire-fighting resources in the future. Emergency managers, who spoke of how difficult it was to coordinate all the teams and equipment involved in an effort that large. Residents whose dream homes were now basically piles of charred timber. And firefighters, the ones who actually faced the flames, with their bodies. Who felt, so many of them, that they hadn't done enough. Who dwelt on all they had failed to save instead of all they had saved.
That story, for reasons that are probably obvious, affected me in a way that writing about sustainable forest management or the mountain pine beetle never did.
When, about a decade later, I decided to try writing a novel, wildfire was on my mind. That and crash investigation. The man who was by that time my husband investigated aircraft crashes for a living.
Those were some of the percolating ideas that led to Uncontrolled Flight. The novel is set in 2013. It begins with a plane crash. Rafe Mackie, an experienced pilot, goes down while fighting fires in the Interior. Will, his partner, closest friend, and bird dog pilot—that's the pilot who pre-flies the circuit to demonstrate where the tanker pilot is supposed to fly and do the drop—Will is in the air when Rafe crashes. He sees it happen.
I'm going to read from a chapter in which Will, to satisfy the counsellor he's forced to see, looks back a decade and tells the story of the 2003 Kelowna fire. It was one of the first big fires he and Rafe fought together. For context, Rafe has just done a solo maneuver over a goat farm, saving the property and the animals. It's a rogue maneuver that he had no authorization for. He just decided, in a typical feat of daring, to do it. Will refused to go. Now, when we meet Will later that night, he's feeling disloyal and ashamed.