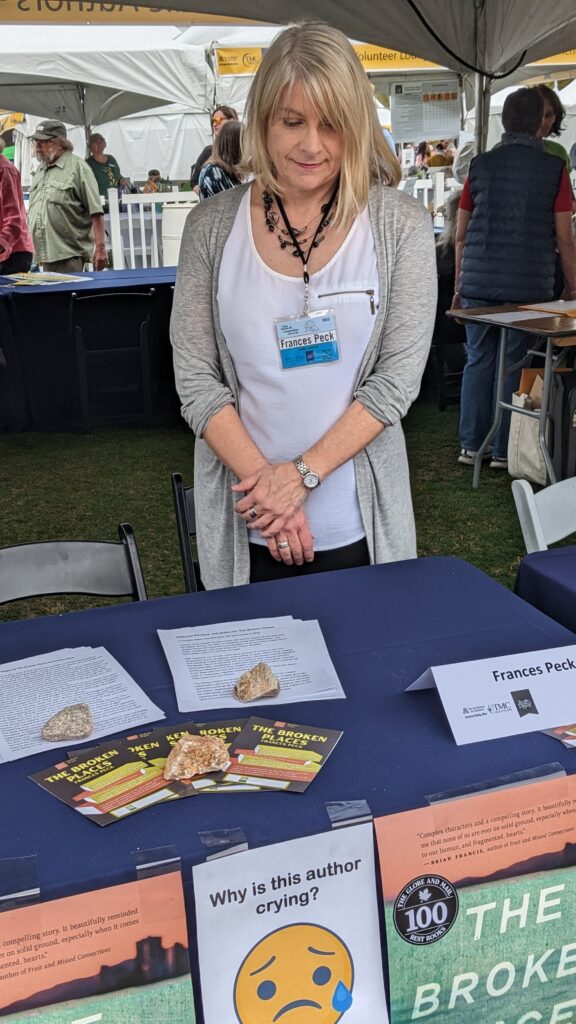 Why? Because she made it to Tucson but her books never did.
The Tucson Festival of Books is an immense event by Canadian standards. Each spring over 100,000 readers flock to the University of Arizona for a weekend jam-packed with authors and booths and literary panels. "You should get in on it," urged Vancouver friends who winter in Tucson. So I applied for a place in the 2023 Indie Author Pavilion, which was open to books from small publishers outside the U.S.
Months went by while judges assessed 150+ books by indie authors. In mid-January I got the exciting news: The Broken Places had been accepted!
I was assigned a three-hour time slot at a high-traffic sales table. NeWest Press shipped my books (priority mail) nearly a month ahead. I counted sleeps, visions of U.S. readers discovering my novel dancing in my head. At last I landed in Arizona—only to learn that my books weren't there.
Thank goodness for friends, is all I can say. My Tucson posse chauffeured me to and from the post office, where I made frantic (and fruitless) inquiries. They housed me, fed me, consoled me. They printed copies of the novel's prologue and reviews to hand out. And they made a winsome "Why is this author crying?" poster to adorn my bookless sales table.
Drawn by the poster, not to mention the attractive display of books by local author David R. Davis, who shared my table and was wonderful company for the afternoon, scores of readers stopped by. Many were curious. Most were sympathetic. Some laughed ruefully with me at how plans can go badly awry. People took leaflets and said they would buy the book. A couple actually did and emailed me to say so.
Life is what you make it—it's a cliché and it's often true. The day before the festival, I had seriously considered cancelling my appearance. I'm glad I didn't. I met some fascinating people and learned valuable lessons (don't trust tracking messages from the U.S. Postal Service). And hey, I got a story out of it!